The Lottery Fund is used for public welfare services.
According to the law, of lottery sales revenue after prize payouts and operating & administrative costs, 35% of the fund is to be appropriated to legally mandated projects. This amount mostly goes to the organizations that had participated in issuing the lottery before the Korea Lottery Commission (KLC) was established.
In 2021, KRW 832 billion of lottery proceeds will be allocated to: Science & Technology Promotion Fund, Korea Sports Promotion Fund, Labor Welfare Promotion Fund, Small & Medium-sized Enterprise Start-ups & Promotion Fund, Historic Preservation(Cultural Properties Protection) Fund, Local authorities, Special Accounting for Development projects in Jeju Special Self-governing Province, Community Chest of Korea, Forest Environment Promotion Fund and Korea Veterans Health Service.
This allocation will be used in consideration of equity and specific needs of the recipient communities for 59 projects, including Scientific Cultural Dissemination(Culture Expansion) Program, Support of Sports-for-All Programs for the Disabled, Emergency Cultural Heritage repair program(Emergency Maintenance of Cultural Properties Program), Modernization of Fire-Extinguishing Facilities, Support of Dive-related Medical Expenses for Women(Female) divers, Mobility Support program for the Mobility Handicapped.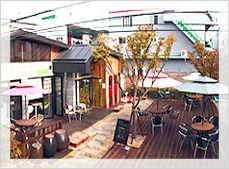 Happiness Center (Village Café) built with the lottery funds
Cases of Lottery Fund Allocation
Busan Happy Village Project
The Busan Happy Village Project was launched in 2010 to improve underdeveloped areas in Busan. Since 2012, it's been fully operated with the lottery fund.
Most recipients are from low-income families or underprivileged class. It is a project designed to improve welfare for socially disadvantaged people. It also pursues the interests of local communities for balanced regional development and elimination of conflicts(disharmony) between regions. This project meets the purporse of the lottery funds.
Until 2016, a total of 49 villages have been created. In 2017, we are going to build 3 additional villages by keeping good care of the current Happy Villages.