We give hope to our alienated neighbors.
Our vulnerable neighbors who are in need of attention and care such as people with disabilities, alienated youth and multicultural families are just around us. The lottery funds are used wisely for such people who need them most.
In particular, the KLC has operated a small-loan finance promotion program to increase people' s opportunity to get financial support and promote the programs specially designed for multicultural and single-parent families.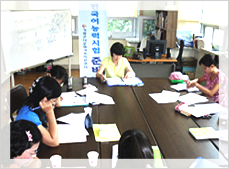 Target: Support of the settlement of multicultural families and fostering of their children.
Cases of Welfare Program for the Underprivileged
Establishment of the grounds for social integration of multicultural families
The number of foreigners staying in the Republic of Korea has increased by about 10% annually from 2005 to 2016. It hit the 1 million landmark in 2007 and topped 2 million in June 2016. As of 2015, multicultural family population is as high as 890,000, and it keeps growing.
Furthermore, as the length of stay becomes longer (more than 70% stays at least 5 years) among immigrant women(marriage immigrants) and naturalized citizens, there has been a rising demand for information, counseling services and multicultural programs for stable settlement and social integration.
However, many people still believe that it is an immigrants' job to adapt to Korean culture by themselves and tend to size them up based on the economic standard of their home country and cultural backgrounds. In other words, it is required to keep promoting customized multicultural perception improvement programs.
The development of the grounds of social integration for multicultural families includes compressive family support and development of the grounds for social integration through the followings: operation of integrated information call center for multicultural families, discovery and support of exemplary multicultural programs, multiculture-acceptance improvement advertising & publicity.