Art & Culture Programs for the Underserved
We operate
Art & Culture program for the underserved to improve their rights to enjoy culture and resolve cultural polarization.
For this, we provide diverse art & culture programs and visit culturally disadvantaged places social welfare facilities without any cultural infrastructure, agricultural and fisheries villages, rental housing areas, reformatories, military bases. We have provided a
financial aid for performances & exhibitions to the culturally disadvantaged people
such as the aged (65 or older) and children & adolescents (under 24).
Also we have offered
diverse art & cultural programs
to the locals and those who haven't been able to enjoy cultural excitements while accelerating
the operation of local literature center
through the spontaneous reinforcement of creative performances and distribution competencies.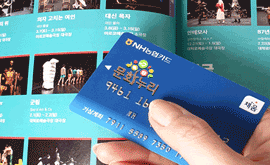 We provide small festivals, custom-made package service (performance + exhibition + art & cultural experience) programs.
Cases of Welfare Program for the Underprivileged
Art Journey with close neighbors encouraging active participation
The cultural tour programs including Art Journey with close neighbors and Island & Mountain Program developed in consideration of rural areas are highly preferred programs. , The performances are given via two-way communication with the audiences who haven't had cultural experiences much, increasing their intimacy and commitments.
This program is operated, considering community schedules and living conditions such as farming season, community events and agricultural festivals. To discover(nurture) the locals' cultural desire, there were sufficient communications with them.
Through sufficient communications with the locals, we nurture their cultural aspirations. In this program, the locals choose the best program on their own and became the key players through sharing of their experiences and feelings in addition to performances.
As a custom-made package service (performance + exhibition + art & cultural experience) program which includes a small festival at an easy-access place for the locals, the program increases synergy effects in virtuous cycle by encouraging the locals to participate in the cultural performances in person.